Front of House:
2 x Martin Audio F12+ (128db)
1 x Martin Audio S15+ (133db)
PLX/Crown Amp Rack
Specifications
Total Power: AES 1.25kw
Freq. Response: 45Hz—18kHz (+/- 3dB)
Total weight: 120 kg (approx.)
3 x Monitors, each with Graphic EQ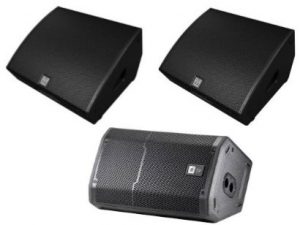 2 x Martin Audio LE100 (129db Peak)
1 x JBL PRX 612m (133db Peak)
QSC / Crown Amp
Specifications LE100

Coaxial, 2 way Passive design

Power: 300w AES

Freq. Response: 78Hz—20kHz (+/- 3dB)

Specification PRX612M

2 way active design

Power: 1000w RMS

Freq Response: 60Hz—17.5kHz
Mixer (we may sometimes free upgrade to Digital Mixer)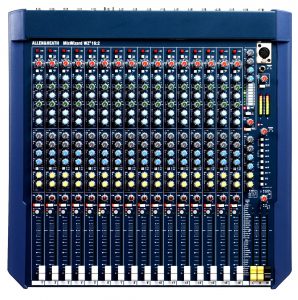 Allen and Heath MixWizard 16:2
4 band EQ with 2 sweep-able mid bands
4 Monitor Sends
2 FX Sends with external TC Electronic M One XL
6 channels of Dbx Compression and Gate
Up to 12 Microphones or DIs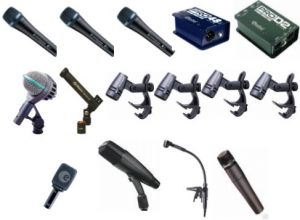 Example Mic Selection
Sennheiser E945/E935 Vocal Mics
Neuman KMS105
Drum set mics (D112, MK012 , C451, E604)
Instrument Mics eg. MD421, E906, SM57
DI Boxes eg. Radial Pro48, Pro D2, Piezo
Actual selection can be adjust to your requirements.  (Excludes wireless and some very expensive models)
Plenty of stands and miscellaneous audio cables
Aux Cable for playback
Sound Engineer – 5 hours included in the price (subject to availability)
Up until recently this was our most popular package as the sub provides a big sound and bands can often work with the 3 monitors provided. As always the quality of the equipment is top class.  The 5 hours included gets a lot of bands from start of sound check through to the close of the event.  We now provide 2 coaxial monitors and one superb active monitor as standard (subject to availability) giving performers a much more cohesive sound.  The difference is quickly audible explaining why L'acoustics and other stadium class equipment use this design for their monitors.  This package is one of the best value available in London, as you get an engineer worth over £200 plus £400 worth of equipment rental.
This is a great starter system for bands and is often a popular choice with professional function bands that bring their own back line.  Just to be safe, I will personally talk you through your requirements to ensure everyone involved is happy.  It is an option to replace the monitors with in ear headphone amps (excludes headphones).
All of the brands are highly trusted by anyone working in the sound industry: Martin Audio London, Soundcraft, Sennheiser, AKG, JBL, Crown, QSC, Shure, Radial, Neutrik.
" CMS provides a very professional and pristine sound every time I have worked with him" E Cox, Rattle and Shake